Target of this project is search for pulsars and RRAT/FRB.
What we have to achieve this purpose?
the sensitivity of BSA LPI increased 3-4 times after a complete reconstruction of the antenna;
possibility of monitoring observations in 96 beams of antenna (approximately 15000 square degrees per day);
archive of daily observations from 2013 year;
digital receivers that allow recording of small integral time and in many frequency channels;
work on the project of a professional programmer.
The project was started in 2015, when we created the program BSA-Analytics, discovered first pulsars, and published first articles.
Team of developers
Tyul'bashev S.A. - head of the project. Scientific targets, search and investigation of candidates, analysis.
Tyul'bashev V.S. - programmer. Program BSA-Analytics, primary processing of data, work with server, work with data.
Tyul'basheva G.E. - programmer, web-developer.
Malofeev V.M. - leading researcher. Investigations of discovered objects.
Kitaeva M.A. - researcher. Processing of observations, search for candidates.
Pushchino Radio Astronomy Observatory
This picture was taken from a quadrocopter 4K // DJI Mavic 2 (video of Wind of Eternity). It shows all the radio telescopes of Pushchino Radio Astronomy Observatory of Astro Space Center (PRAO ASC LPI).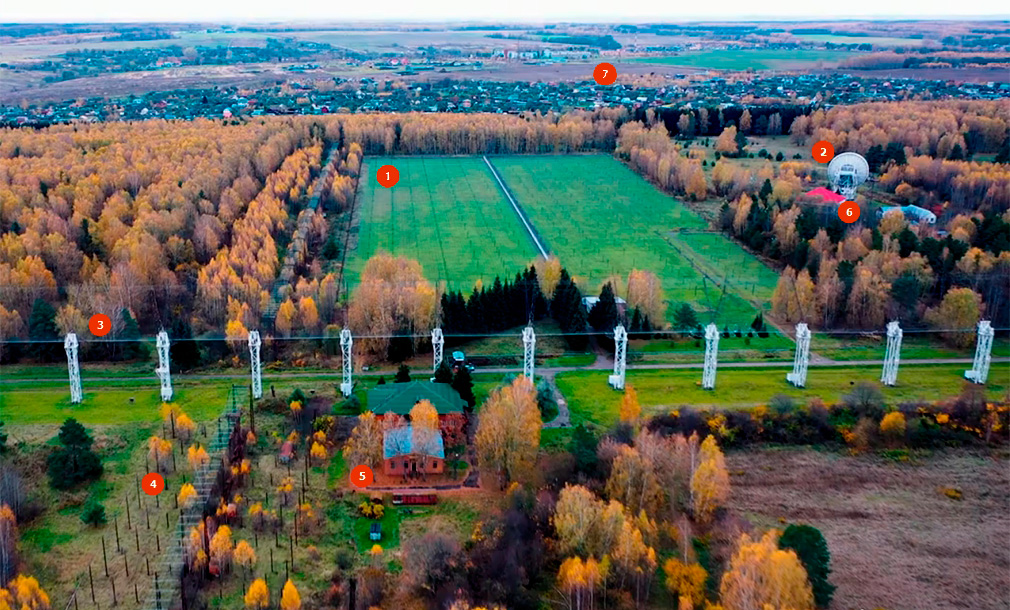 Big Scanning Array of Lebedev Physical Institute.
RT22 - radio telescope with diameter of 22 meters.
Dipole cross-shaped radio telescope (length 1 km), East-West direction.
Dipole cross-shaped radio telescope, North-South direction (this part is currently not working).
Building for the management of IPD and BSA.
Building for the management of RТ-22.
Village Bolshoe Gryzlovo and other settlements. (Pushchino is located on the opposite side).